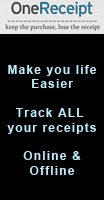 Tax season again, and time to locate, sort and total those business receipts.
With OneReceipt, the task of tracking your receipts just got easier. With your smartphone you can take a photo of your receipt and email it to your private OneReceipt account.
When you are on the road, have your expenses submitted automatically to your team with OneReceipt.
OneReceipt connects with your gmail or yahoo account to track and capture receipt information. Collect totals and payment information to your OneReceipt account.
Special Features
Some of the other great features that are included with OneReceipt that I look forward to using are Monthly spending reports – a simple tool for tracking spending patterns and discover better ways to spend your money.
Need help recalling how much longer you have to return an item? OneReceipt will track that.
Shipping, OneReceipt tracks expected shipping dates – crazy, right!
Installation is easy to do, expect a confirmation email and a few easy steps for connecting with your gmail account. The sync for with your gmail account may take some time.
https://www.onereceipt.com