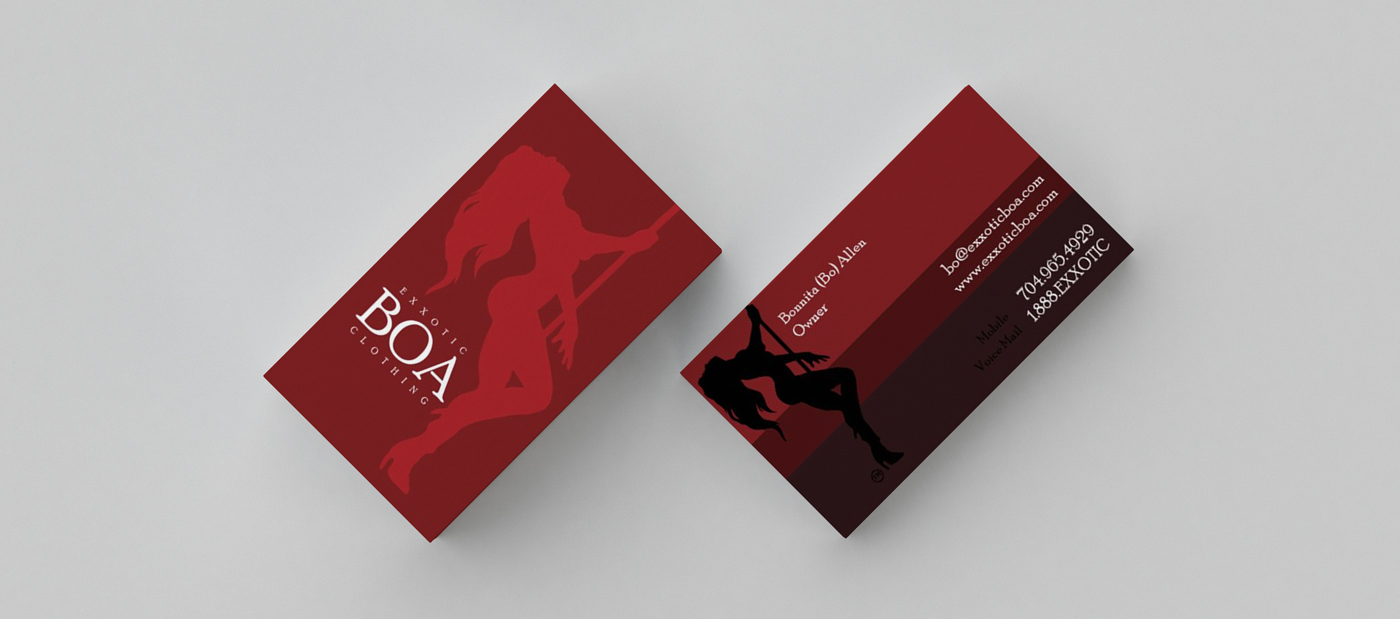 Business Card Design for Exxotic Boa Clothing. 

Working with Exxotic Boa Clothing was a wonderful experience. And the beginning of a dear friendship. The business card design was part of their branding package.
Visually, Exxotic Boa Clothing knew what they wanted. Their clothing line is unique. Often one-of-a-kind. My clients want stylish and timely – no fads.
The business cards design was part of the larger Branding Package that I developed for Exxotic Boa Clothing. The Branding Package included:
Logo design*.
Business card design and printing.
Website design and development.
Video shooting, editing, and special effects
Fashion photography.
Design online clothing catalog.
What inspires a Business Card Design
The inspiration for the Business Card Design came from the website. The website design is a piece of art.  www.exxoticboa.com
The website is technically brilliant! With Master Coding at on every level. Including loading content from three servers.  The graphic design aspects of the website were of the greatest importance.
When it came to designing the Business Card. most of the graphic design work is already done. By this stage of the project, I had the Graphic Design rules established.
The logo was set.
Color systems and details from the website were set.
The power of well-developed Branding Package in action. All future projects and designers are not having to second guess visual solutions. With Branding Guidelines in place, it reduces the time required to transfer design solutions to business needs.
*Logo Design – the Exxotic Boa Clothing icon of the woman was originally drawn by someone else – I refined the icon and incorporated the icon into the logo design.